Free Tour Seville
Seville is undeniably one of the most beloved cities in Spain and throughout Europe. Its atmosphere is heat, a rarefied air of charm, flamenco, mystery and elegance. Witness Seville in all its glory with our popular Seville Free Tour
Tour highlights
Tour highlights
To witness Seville is to cherish it, and your adventure begins with our Free Walking Tour of Seville. The capital of the Andalusia region is a rich tapestry of history, woven by the many different civilizations whose legacies are imprinted on its walls, paintings and statues. Walking along the stone cobbled roads of narrow passageways that wind through this gorgeous city is a sort of time travel, every step through its streets and squares reveal a monument to its ancient Roman, Tarshish, Visigoth or Arabian heritage.
On this walk, we take you to numerous sights of this special city that must be seen to be believed. There are treasures aplenty along our way, but our magnificent Cathedral with its beautiful bell tower (Giralda) crowned by the weather vane (Giraldillo), is the most popular stop on this tour. Our time travel then continues as we stroll along the Guadalquivir River until we reach the Tower of Gold (Torre del Oro) and then on again as far as Plaza España. This majestic square remains an essential point on the city's map and is a highlight of our tour.
And listen closely all the while as we pass along the legend of Hercules, the Roman God, who founded Seville way back when. Or did he? We blend these and other tales with the sounds of Seville into a song you won't soon forget.
Always feel free to ask our experienced guide any question you might have. But fair warning: they aren't easily stumped. Some of the most popular of the questions include: How come different civilizations came to live together in Seville? Who was Fernando III? How did the Torre del Oro get to appear on the shield of Santander? How did the famous April fair, the Feria de Abril, begin? We answer them all, and then some!
So come take our Free walking Tour Seville to learn so much more, and to live and feel, at least for a little while, like a true Sevillian.
Giralda
Cathedral
Alcázares
Archivo de Indias
Puerta del Perdón
Ayuntamiento de Seville ('Seville's Town Hall)
Plaza Nueva
Puente de Triana
Torre del Oro
Puerta de Jérez
Rectorado (Seville University)
Prado de San Sebastián
Plaza de España
Parque María Luisa (Maria Luisa park) and much more…
Meeting point
Meeting point
Plaza de España, next to the statue of Aníbal González
It's easy to see us! Look for our WHITE UMBRELLA
Closest stops: by tram (Archivo de Indias or Plaza Nueva) or by metro (Puerta Jerez)
Tour gallery
Tour gallery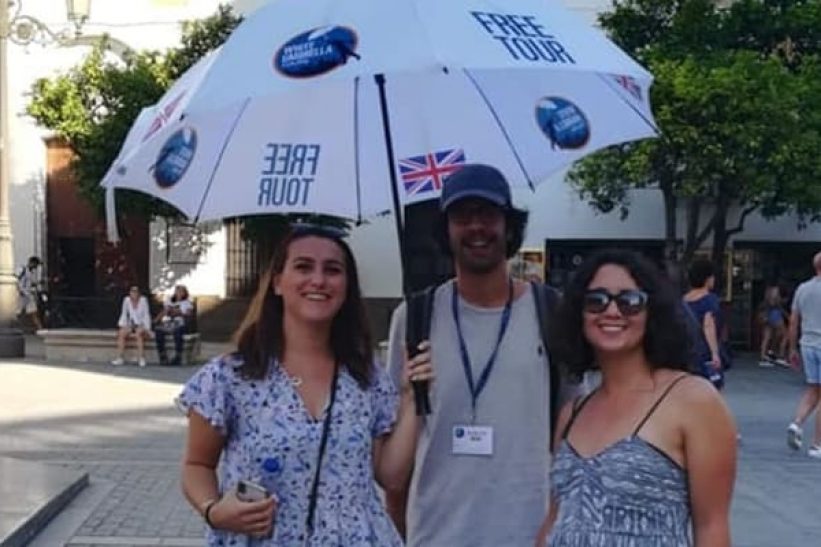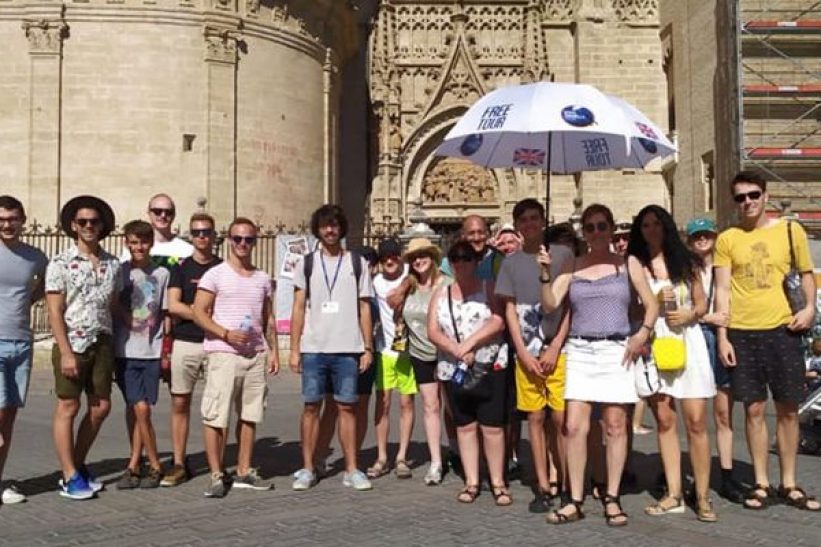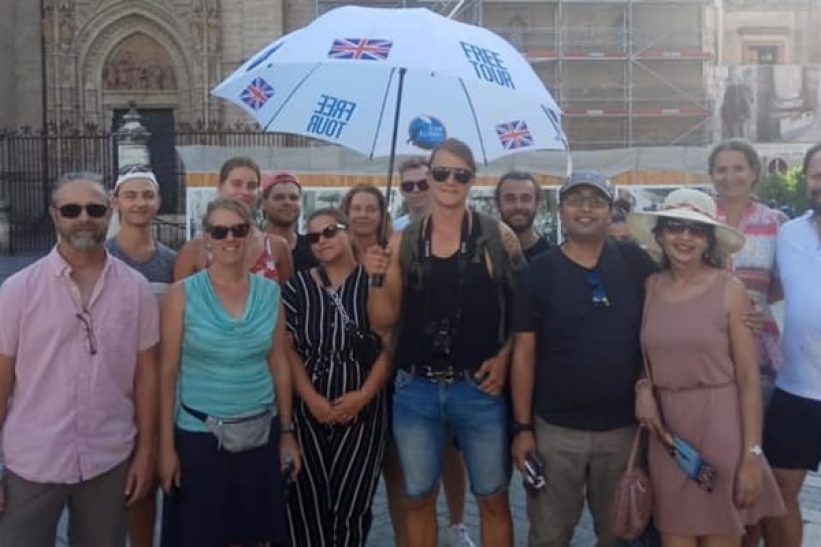 Tour policies
Tour policies
Basic rules in this tour
Participation in each tour is voluntary. Neither White Umbrella Tours nor any of its collaborators will be responsible for physical injuries, damage, loss or theft of personal items during the guided tour.
Must I show my booking or receipt before starting the tour?
Be so kind as to print the receipt issued at the time of booking or download it to a mobile device to show it at the beginning of the tour.
Is there a limit of participants in free walking tours?
In order to ensure the best experience for all our clients, a group of more than 10 people cannot join our Free Tour but must organize a private tour. Please contact infoseville@whiteumbrellatours.com for more details.
This is my first experience with a free walking tour, is free?
A free walking tour is the perfect opportunity to discover us, enjoy with our guides and of course, you decide the price.
It is really important the timeliness in the tour
Your reservation is guaranteed up to 10 minutes after the start time of the tour, after this time, your place can be reassigned to another participant.
Is there are special prices for students and childrens?
The student price will be applied upon presentation of valid accreditation and under 25 years of age. Admission of children under 14 years of age is free of charge (upon presentation of valid identity document). White Umbrella Tours Seville is not responsible for the expenses that may arise from the assistance of children under 14 years of age on our tours, such as transportation or tickets to different sites.
Can I cancel my tour?
No refund will be accepted for tickets canceled without notice of minimum 24 hours before the commencement of the tour. For cancellations more than 24 hours in advance, 100% of the total amount of the ticket will be refunded. All returns of tickets purchased through the web will be made through Paypal within 24 hours after the request for the refund. Secure online payment is guaranteed by PayPal. *
Is there a limit of participants?
For starting the toour, we need, at least, 4 participants.
The validity of our tickets is during 1 year.
*These conditions are applicable to all tours to visit and get to know Seville.
Check our website for more information of tours in Seville.