The city of Krakow is the second most important population of Poland, just after its capital, Warsaw. Nonetheless, Krakow has nothing to be jealous of with respect to the Polish capital in terms of history and places to visit. If you would like to learn more about this beautiful city, here at White Umbrella Tours we have some useful tips for you to visit Krakow in English. Do you need some advices to enjoy in Krakow?
The Historic Center
Cultural Patrimony of Humanity since 1978, Krakow's historic center holds a vast array of buildings, squares, markets and castles that make it highly attractive for visitors.
Jewish Quarter "Kazimierz"
Since the XII century the Jewish community has had an important presence in Krakow. As a matter of fact, they resided in the stunning Kazimierz quarter, which houses different synagogues still well preserved. This is something to celebrate given that Poland was invaded by Nazi Germany and despite of some properties being destroyed, the Tempel Synagogue, Isaac Synagogue, Kupa Synagogue and Wysoka Synagogue are still in perfect conditions. You can learn more about this place in our tour through the Jewish Quarter Kazimierz.
The Germans invaded Poland on September 1st, 1939, and Krakow was no exception, therefore, during occupation years, thousands of incidents unraveled between the Poles and the Germans, being the jewish population the one most affected. White Umbrella Tours provides an insight of this historic event in our World War II tour.
Poles know how to drink
If you're spending a few days in the city, it is necessary to visit the most famous German extermination camp. About 70 kilometers west of Krakow, White Umbrella Tours makes it easy for us with its excursion to Auschwitz, transportation included. We understand that these small travel tips require making the most out of your trip, always depending on how long your stay will be.
Is there some tour to enjoy in Krakow?
To sum up, if you want to enjoy in Krakow, please book our free walking tour Krakow.
Ver más publicaciones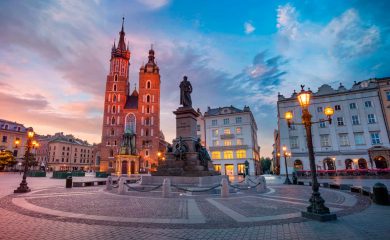 Krakow
July 28, 2019
Located south of Poland, and showered by the Vistula River, Krakow is an excellent traveling…

Krakow
July 28, 2019
Sadly, Auschwitz is famous for being one of the cruelest places to ever exist during…